What is "Pre-Preschool"?
Pre-Preschool with Polly is a small, community-oriented home-away-from-home for your 1-3 year old child The Pre-Pre day runs from 9am-5pm. The location is my home in Brooklyn, a beautiful spacious pre-war coop apartment with an outdoor space, 5 minutes from the F train and 10 minutes from the B or Q.
Pre-Preschool with Polly is a special place where an intimate, close-knit group of kids will meet 2-5 days per week (you choose the number of days) in my home to learn and grow, to have tons of fun, to be comforted and nurtured in times of need, and to get to know themselves, each other and the world around them. Because of Pre-Pre's intimate size, it's also a place where parents who are interested form community and support each other during this exciting time in their child's early educational life!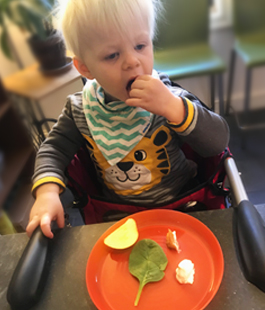 Pre-Preschool with Polly is less a standard style daycare and more a special go-to enrichment destination for your child with a consistent group of 3-6 same-age friends and with me, Polly—a former full-time stay-at-home mom to my own toddler, picture book author, former art director of children's books, and part-time art teacher at a Brooklyn preschool. *I am the head teacher and I have an experienced assistant teacher as needed for groups of 5 kids or more.
Think of Pre-Pre with Polly as an extension of home that's also a gentle way to prepare your child for the more official preschool classroom environment. Each child will be loved and nurtured and can ease into their school and life skills with the guidance and support of an experienced, compassionate adult.
DURING YOUR CHILD'S DAY AT PRE-PRESCHOOL
I will provide a safe, caring, kind environment

I will give the children lots of cool toys and materials to delight and inspire them

I will nurture their social, emotional, cognitive and physical growth

I will provide opportunities for play, interaction, and discovery

I will give them lots and lots of love and cuddles!

At Pre-Pre with Polly your child will be seen and treated as the unique wonder they are. All toddlers have different temperaments, learning styles, and personal needs. The small size of the Pre-Pre group plus my experience, curiosity and passion for this age group will make that possible.
Pre-Pre with Polly will be a place for your children to grow into their authentic self—through problem solving, through developing their passions, creativity and communication, and through learning how to interact with other kids in a warm manageable setting.
Pre-Pre kids will spend their days immersed in rich intentional play environments with age-appropriate toys and materials—all chosen for their texture, beauty, complexity, and variety. They will explore art media, develop a love of music and books, and make their first friends through things like dramatic play in our pretend kitchen, and at the Pre-Pre Café, where they'll energize for the day, enjoy delicious food and practice important social skills like listening and waiting their turn.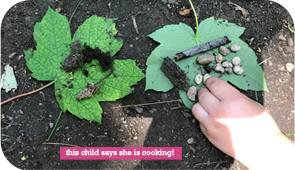 THE PRE-PRE DAY WILL BE FILLED WITH LANGUAGE, NATURE AND BEAUTY
We'll do lots of chatting and guided socializing to get to know the world around us, to get our physical and emotional needs met, and to express our developing thoughts and ideas. Even if your child only has a few words or none at all, they'll learn by hearing others talk and by being encouraged to practice the modeled sounds and communication skills of me and the other.children. And Pre-Pre's intimate setting allows your child to develop these skills without being overwhelmed by the group space or size.
My experience in visual design and my life-long passion for aesthetics will play a role in your child's day. The Pre-Pre space will be set up mindfully, with the sense that a beautiful, ordered environment is an important part of your child's development and newly forming relationship to the world. My home is filled with natural light, order and an attention to visual and spatial balance. The space will encourage safe exploration, help the children find independence and freedom within limits, and give them a sense of delight and calm.
Pre-Preschool with Polly will be a daytime retreat for your child and family: creative play for the kids, connections to others for all, and the most nurturing, loving environment you can give your child outside of doing it yourself. Please be in touch to speak more or set up a visit. I'd love to meet your child. (And you, too!)

About Me
I grew up in Philadelphia where I went to a small Quaker school. I got a BA at Brown University in English literature, pursued a master's degree in poetry (not an easy career choice!), then returned to school for graphic design. I became an art director of children's books at a publishing house in NY, then discovered the wonder of working with children (by way of volunteering at my son's preschool). This led me to become a part-time educator (still doing freelance graphic design) and In the midst of all this, I wrote and published a couple of children's books. I was a distance runner for many years whose knees finally had it leading me to yoga, which led me to meditation, both of which have truly changed my life. I believe in clean food, mindfulness in speech and action, beautiful spaces, the importance of story and language for kids of ALL ages, and I am continually inspired by children's wonder for the world, their love of exploration, and their wish to spend their days in creative (and sometimes messy) play.
To find out more about me outside of my work with kids, feel free to take a look at my
children's books

or click the "P" logo to check out my

graphic design website.

Testimonials
Polly is super creative and does cool projects that get kids excited to learn. Polly is nurturing, loving and good at paying attention to kids' different interests and personalities. This helped our kids feel comfortable and make solid connections with their peers. Pre-Preschool for younger kids sounds pretty great—almost as good as being with them yourself!
—S. and P., parents to Marin and Orion, The Maple Street School
What I like the most about Polly's program is that every morning that I drop my daughter off, Polly is sincerely excited to see her. Her love is infectious, and it is easy to tell how much our daughter (16 months) loves being with her. Usually a big smile comes over her face and she runs over to give Polly a hug. Just seeing that gives me the utmost confidence in Polly's care. . . Polly gets the kids out every day to a playground where they are exposed to other (mostly older) children. I have seen how fast my daughter has become more intrepid and confident in social situations since being with Polly. . . Polly conveys her love for the kids she takes care of through the food that she prepares. Some examples: pancakes, roasted chick peas, kiwi fruit, roasted beets (julienned to look like worms for Halloween).
—L. and S., parents to Simone, Pre-Preschool With Polly
Polly's Pre Pre program has been excellent for my daughter. Polly is enthusiastic, kind and genuinely enjoys looking after toddlers & younger babies. There were creative play activities with mirrors, books, blocks, indoor tents, kitchen adventures & excursions to the playground. I felt relieved because she sent me daily updates about my daughter ( food she ate, favorite activities, funny anecdotes & behavior observations, her nap schedule, etc). I highly recommend her!"
—L. , parent to Oona, Pre-Preschool With Polly
We've had the pleasure of knowing Polly for many years. She taught our older son when he was 2 and he still remembers her fondly as a 4th grader. We were thrilled when Polly decided to launch Pre-Pre, just as we were hunting for daycare for our 1 year-old need. Calder has been with Polly for over 3 months and is thriving. Pre-Pre has become a second home for him. It's a wonderful environment for play and learning: clean, inviting, engaging and filled with friends and safe adults that comfort him. Calder loves the creative home-cooked meals Polly serves up. Our family couldn't recommend Pre-Pre with Polly any more highly. —M. and E. , parents to Calder, Pre-Preschool With Polly
My son started attending Pre-Pre in September, and we have been so pleased with our experience. Polly exudes calm and positivity, and she has created a warm, loving, nurturing environment filled with fun and exploration. (She also does an excellent job of helping those early separations go much smoother!)
Some more things I love about Pre-Pre:
• Flexibility and intuition (Polly really sees where the kids are that day, and adapts the schedule to fit their needs) • Lots of playground time • No to screens and excessively bleeping/blooping toys • Yes to sensory play and community • Super-detailed daily reports, written in a lovely way that really captures what the children did that day (and lots of pictures!) • (most importantly) Polly knows when to stand back and observe, and lets the children learn how to interact with each other in a safe and gentle way. She keeps them safe without being overbearing, and is so respectful of their individual development and abilities.
We love Pre-Pre with Polly! —L. , parent to Mazy, Pre-Preschool With Polly